Crowdfunding

Do you own a smartphone or tablet? If so, you are probably already thinking about how you can protect it from ugly scratches and other damage to the display.  Many smartphone users in this situation use screen protectors and are disappointed when they find out that they do not protect the sensitive glass as they would have expected. We too were frustrated by this, and searched for a better and modern solution. We are now introducing liquid glass technology.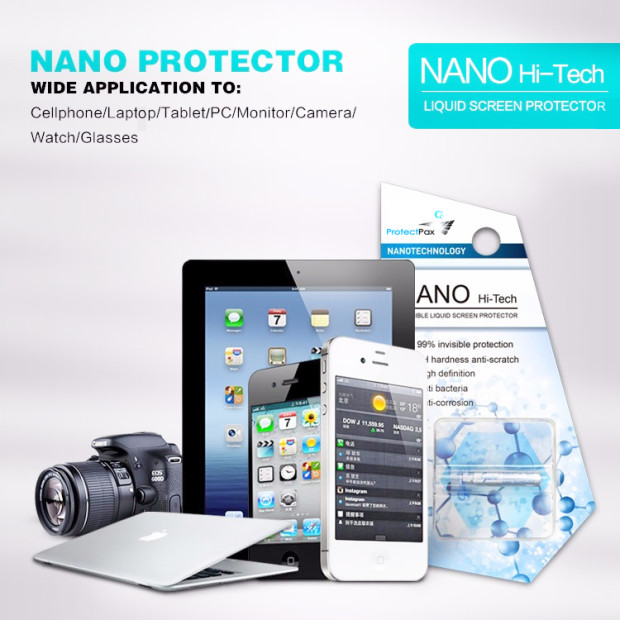 .
ProtectPax - An invisible protection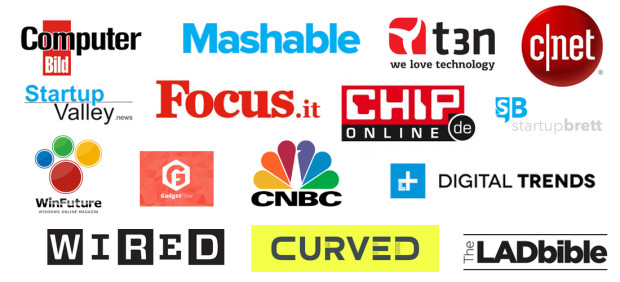 Today our smart devices are an expensive investment and dear to us and that's why we believe we should protect their screens from scratches and cracks. The cost of replacing the screen is often a significant expense.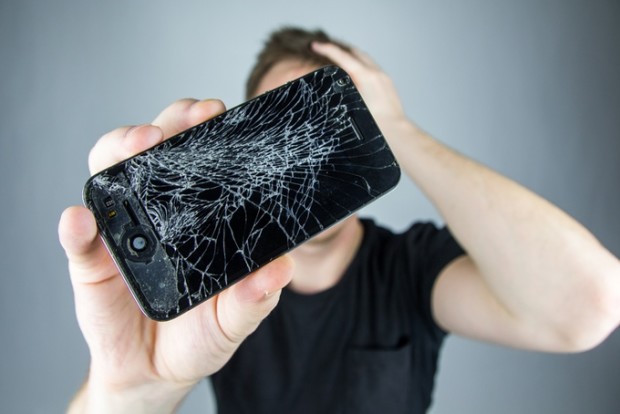 The risks are everywhere.  All you have to do is to put it your phone into your pants pocket once, where your keys are already in place.  Out comes your phone with an ugly scratch. The same with your handbag -- the glass screen is easily scratched when it comes in contact with any other objects.  Even loose change can scratch your phone.
With a normal screen protector & With ProtectPax

Although screen protectors are available and prefabricated in standard screen sizes, they are often difficult to install. They may also develop unattractive air bubbles under the film over time.
Water repellent
With the ProtectPax innovative liquid glass, however, you get the screen protection that your smart device needs, to make it durable for many more years to come.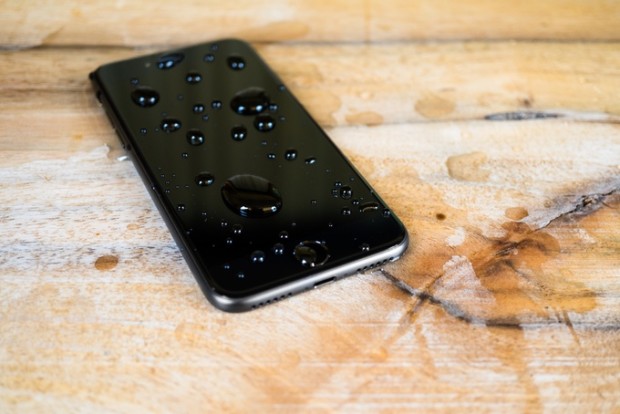 Liquid glass is an ingenious technical process, originally developed for the aviation and aerospace industry.  It makes glass much more resistant and more durable. You simply apply the liquid on your smart device display and it's done.  After drying, the liquid turns shiny and strengthens the screen, protecting it from both scratches and cracks.
Anti-Scratch Hardness of 9h like Ruby or Sapphire
Also, the film not only protects your smart device's glass from superficial scratches, it provides protection against falls that may break the display.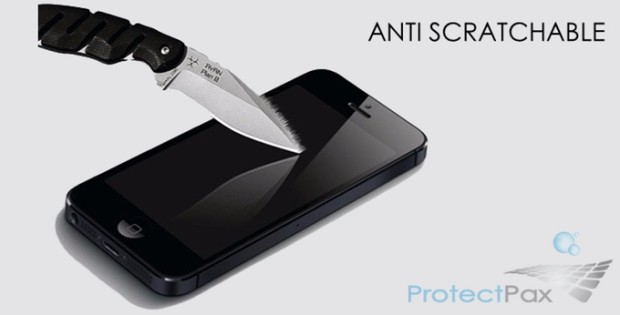 Fall Down (Samsung with ProtectPax & Iphone without)
Cutter Test with ProtectPax
Knife Test with ProtectPax

Step 1
Switch off your mobile device and remove all accessories such as the power supply, any cables and any headphones.  Clean your cell phone display with the cleaning cloth included in the package and then wipe it dry.
Step 2
Apply the liquid glass with the included sealing cloth to spread the liquid evenly and slowly on the display glass. After use, the cloth should be dry.
Step 3
About ten minutes later, polish the applied screen protector with the soft microfibre cloth until the treated glass shines.  Your screen is now protected.

After drying, ProtectPax is as hard as sapphire or ruby and acts like an optical filter. You will also enjoy even more sharpened contrasts and richer colors. ProtectPax will make your screen smooth.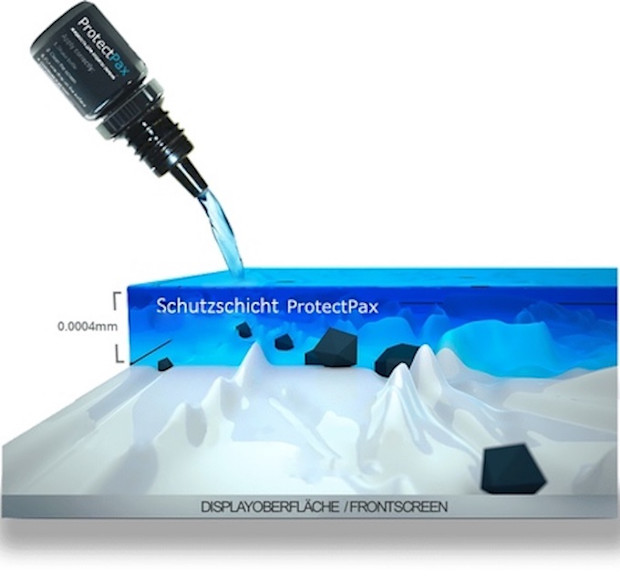 ProtectPax will make your screen smooth.
If you apply ProtectPax on your mobile phone camera, your photos and videos will be even more beautiful. As a pioneer in screen protection, ProtectPax was subjected to extensive tests and adaptability with different devices.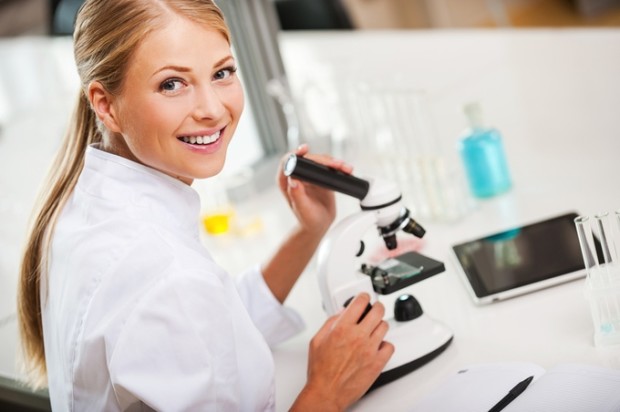 ProtectPax - Protects all glass surfaces from scratches
With the help of liquid glass nanotechnology, you can not only protect your high-quality mobile phone or tablet from scratches to the display, it provides drop protection as well
If you have a smart watch, a regular watch, or eyeglasses, the pack of liquid glass can also be used to protect these items as well. The same applies to TV screens, GPS navigation systems, laptops, and eBook readers, and digital cameras.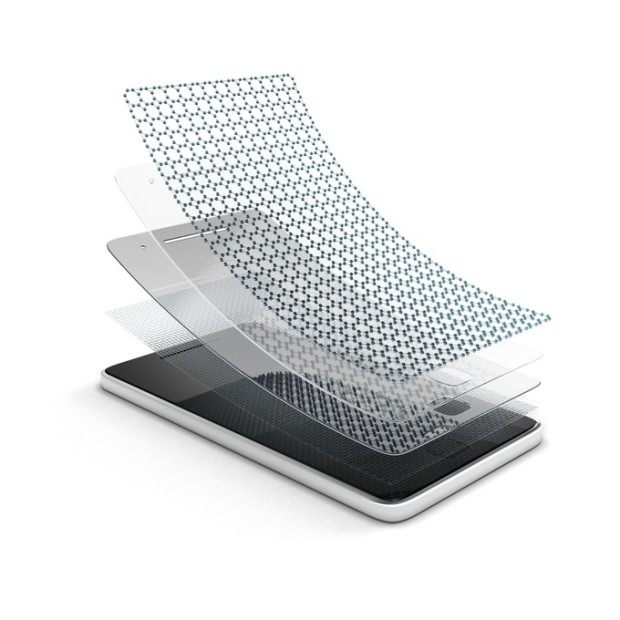 ProtectPax - Protects all glass surfaces from Scratches
If you are a proud owner of more than one smart device, or if you want to protect additional glass surfaces with useful nanotechnology, it is best to buy a larger pack, making our screen protection even more cost effective than it already is.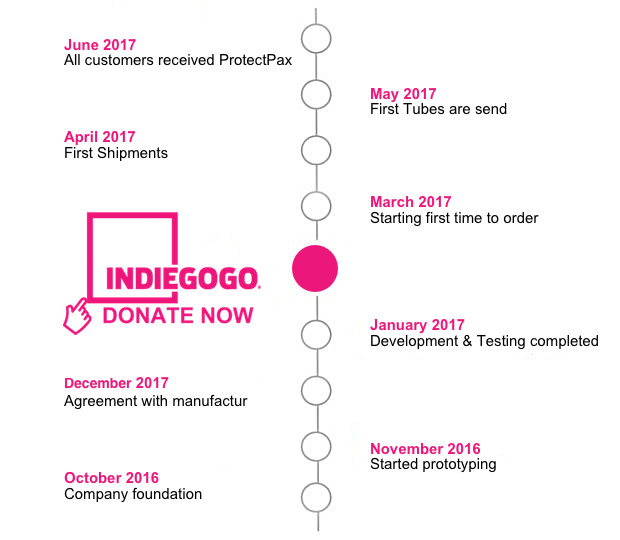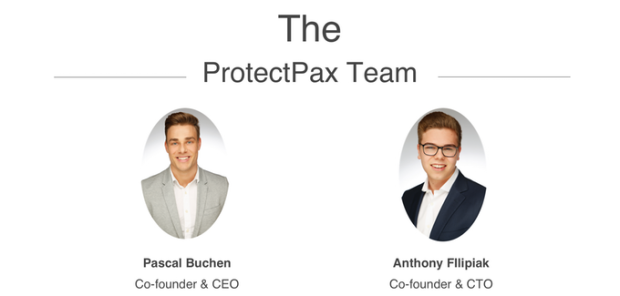 We bring together a unique mixture of skills and background, each of which contributed to the development of ProtectPax:
Pascal (left) is a smartphone distributor in Ratingen (Germany), with a background in professional marketing.
Anthony (right) is a marketing and technology genius. He created the product which has led to the   online chapter of ProtectPax.
We developed and designed ProtectPax over the last year in Düsseldorf.



Exact shipping rates will vary depending on destination, but will not exceed $10 per reward. ProtectPax rewards will be shipped in line with the  Indiegogo pledge.  If you want your ProtectPax soon, you should move fast!  

Yes! We've made a FAQ section below. We'll be adding new FAQs as we go along, and we'll be keeping you up to date with Indiegogo Updates, messages, and via the Comment Wall. And please, feel free to reach out to us!


Risks & Challenges
Please be aware that we cannot mark any shipments as a gift. This is illegal so we will not be able to do this.
Our prices do not include VAT, GST or other applicable country taxes. Our terms of sale are CIF destination. Backers are responsible for any and all import fees, VAT, duties, taxes, post office fees, and or any other fees their country or government imposes, which in the past have ranged from 0% to 20% in the US and EU countries, to as much as 200% for certain South American countries. As we are shipping these products all over the world, it is impossible for us to build in the various duties, VAT and GST tax for each location through Indiegogo.
Shipments that cannot be delivered due to an inaccurately provided address (including failure to update an old address) will have additional costs to be reshipped. Due to the size of your rewards, we cannot ship to PO Boxes. Estimated Delivery: Once production is complete on all of the orders, we will provide updates for shipping dates. As you know with international shipping there can be unpredictable delays that are out of our control, however, we will do our absolute best to ship based on the predicted time frame.
This is our first project on Indiegogo. Since we started last year, we did what most young companies do: We built up our company, established supply chains and we learned an awful lot about quality management and production lines.
But most importantly, we tried to invent a product which can be used on all glass screens. It was a challenging developmental journey, but we finally made it. We care about every single one of our customers, and if there is one thing, we pride ourselves in, it's that we communicate well. (In fact, during the entire first year, we can only think of only one customer that we actually lost. We still feel bad about that). So if unexpected issues occur or even if we make mistakes, we will let you know as soon as we know about it and we will proceed with the greatest transparency possible.
And let's be clear: This project is about making things as simple as possible, and that accounts for the production as well. Right now, we can´t think of everything and there are some items that we  don't fully control. While we understand our product well, things become more complex when we move into mass- scale production. So, as a bottom line: You know and we know that this is an Indiegogo-campaign, naturally things can go wrong. We will do our best to avoid that, and even if something unforeseeable happens, we will get through it, together. And we will make this happen. We promise.